NOTE: Nothing in this article is intended to convey medical advice.
You've just been told you need to go on parenteral nutrition, now what?
Don't panic. If you are reading this article, you are doing the right thing by starting to educate yourself. Many patients go on parenteral nutrition and live meaningful, happy lives.
What is parenteral nutrition?
Parenteral Nutrition is a unique medical therapy, and it is oftentimes not well understood by the general public. Your doctor will prescribe your parenteral nutrition and may refer you to a pharmacy to fulfill your parenteral nutrition prescription.
WHAT PARENTERAL NUTRITION IS NOT
Parenteral nutrition is NOT a disease – it is a therapy that is used to help treat various diseases or conditions.
Parenteral nutrition is NOT a "death sentence" – parenteral nutrition delivers nutrients to the patients who rely on it. In that sense, parenteral nutrition sustains life.
Parenteral nutrition is NOT a diminishing of a patient's quality of life – parenteral nutrition oftentimes allows patients to thrive with a newfound quality of life by staving off malnutrition.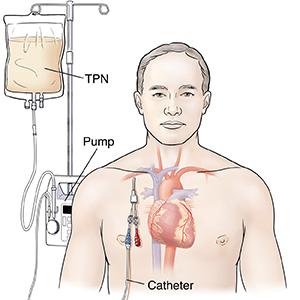 PARENTERAL NUTRITION IS LIFE SUSTAINING NUTRITIONAL SUPPORT
Parenteral nutrition is life sustaining nutritional support which is provided intravenously through a port or catheter. Due to the high volume of liquid that must be infused into the patient's body to provide nutritional support, the catheter is typically placed in the large blood vessel of the aorta in the patient's chest in order to efficiently pump as much liquid nutrition into the body as quickly as possible. Depending on their needs, a patient might infuse for anywhere between 6 – 24 hours a day.
WHO USES PARENTERAL NUTRITION? 
There are many reasons why a patient may require home parenteral nutrition. The most common are intestinal dysfunction from short bowel syndrome, Crohn's disease, and intestinal dysmotility. In some cases, a patient with an esophageal tear might require parenteral nutrition for the short duration of the healing of the injury.
What is Short Bowel Syndrome?
The main cause of Short Bowel Syndrome is surgery to remove part of the intestines due to disease, injury, or birth defect. Diseases common to Short Bowel Syndrome include various types of cancer, Crohn's disease, intestinal dysmotility, midgut volvulus, or injury to the intestines through trauma.
Short Bowel Syndrome Patients struggle to absorb nutrients through their own gastrointestinal tract. Unable to absorb nutrients, parenteral nutrition can be used to provide nutritional support and prevent malnutrition.
What is Crohn's Disease?
Crohn's disease is a chronic inflammatory disease of the intestines, especially the colon and ileum, associated with ulcers and fistulae. Crohn's disease can lead to Short Bowel Syndrome and it is a common underlying disease for patients who require parenteral nutrition. Crohn's patients may also sometimes struggle to absorb nutrients or traditional feeding methods may cause such severe complications and pain that parenteral nutrition is required for nutritional support.
What is Intestinal Dysmotility?
Intestinal dysmotility is a disorder that affects gastric motility through an abnormal contraction of the intestinal muscles. Intestinal dysmotility patients often require parenteral nutrition due to their inability to absorb nutrients or complications associated with traditional feeding methods.
The Nutrishare Advantage
While there are many use cases for parenteral nutrition, Nutrishare specializes exclusively in providing parenteral nutrition as ongoing life-sustaining therapy for our family of long-term consumers who rely on it to live their best life.
Nutrishare is the only nationwide pharmacy that specializes in parenteral nutrition for the long-term consumer. We ship to 48 states so you can travel throughout the country with peace of mind knowing that we will ship to your location as you travel. Our clinical staff has made a career-long focus on how to best care for patients who require parenteral nutrition.
HOW IS PARENTERAL NUTRITION MADE?
There is no off-the-shelf product labeled "parenteral nutrition." Instead, everyone's formula must be prescribed by a doctor, and then compounded at a compounding pharmacy. A particular patient's parenteral nutrition formula should consider their age, gender, nutritional requirements, underlying diagnosis and more. For this reason, a doctor, typically a gastroenterologist, will work with a compounding pharmacy to create a blend that is appropriate for a particular patient. All parenteral nutrition formulas are sterile compounded in a regulated compounding pharmacy inside of a clean room environment.
After infusing at home, a patient and pharmacist at Nutrishare undergo a process to discuss how the formula could be optimized to best suit their needs.
WHAT IS TOTAL PARENTERAL NUTRITION (TPN)?
Total parenteral nutrition, or TPN, is a term that is used when patients derive all or a vast majority of their nutrients from their parenteral nutrition formula. Some patients infuse up to 24 hours a day and rely on their parenteral nutrition formula to provide everything they need for nutrition: proteins, carbohydrates, lipids, salts, rare earth minerals and more.
For these patients parenteral nutrition is providing everything they need in terms of nutrition, hence the term "total parenteral nutrition."
WHAT IS HOME TPN?
As we mentioned above, the use cases for parenteral nutrition vary greatly. Some patients may only require parenteral nutrition for a few weeks or months, while others may require parenteral nutrition to sustain life as an on-going part of their long-term routine.
Nutrishare specializes exclusively in providing parenteral nutrition for patients who require long-term nutritional support. For this reason, we often refer to our Parenteral Nutrition as "Home Parenteral Nutrition," because the patient is stable and the acute care phase of their disease or diagnosis has typically passed.
Nutrishare is the only nationwide pharmacy that specializes exclusively in providing parenteral nutrition for long-term patients. Besides running an excellent pharmacy with an award winning team of clinicians, we also take the next step and think of every possible way to keep our patients happy, comfortable, and thriving at home with parenteral nutrition.
Many of our patients work, travel, pursue degrees, start families, and more while on home TPN. For our patients, parenteral nutrition is part of their overall lifestyle – not an impediment to living their life – which is why we call it "Home Parenteral Nutrition" because the vast majority of infusions will occur at home as part of their overall normal lifestyle.
The Choice is Up to You
HPN is not a choice, but who you choose to partner with for your nutrition is your choice. See if Nutrishare is right for you. To get started,  complete an insurance pre-check, and a patient care coordinator will call you to discuss your coverage and options.